The Working Principle of Stone Jaw Crusher
2015-03-02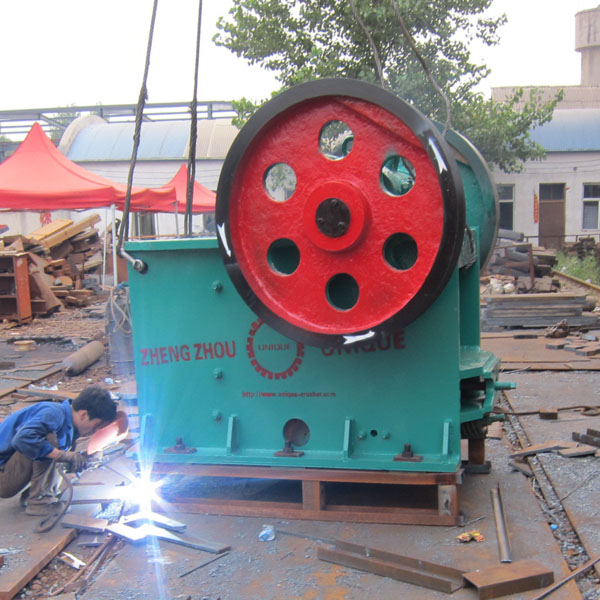 Unique Company PE jaw crusher is widely used in mining, railway construction, water conservancy project, metallurgy, chemical, building material industries. It is mainly used to crush all kinds of rocks and ores, whose compression strength is not more than 320 Mpa. Jaw crusher, your preferred primary crusher, is used for coarse crushing and fine crushing.PE series is used in primary crushing,while PEX series is used in secondary crushing and fine crushing.
Working Principle of Jaw Crusher
It is driven by motor. The eccentric shaft is driven by the triangle belt and slot wheel to make the movable jaw plate move by a regulated track. The materials in the crushing cavity composed of fixed jaw plate, movable jaw plate and cheek plate can be crushed and discharged through discharging opening.
Advantages of Jaw Crusher
1. Crushing cavity is deep without dead zone, which improve the feeding capacity and throughput;
2. Gasket discharge opening adjusting device enlarges adjustable range and increases the flexibility of crusher.
3. Reliable lubricating system, easy to replace components and maintain.
4. Simple structure, reliable working condition, low operation cost.
5. Energy saving: one jaw crusher can save energy of 15%-30%
6. Large adjustment range of discharge opening can meet different customers' requirement
7. Low noise and less dust
Zhengzhou Unique Industrial Equipment Co., ltd
Tel: 0086-371-63699132
Fax:0086-371-63935058