SF flotation machine
2018-12-22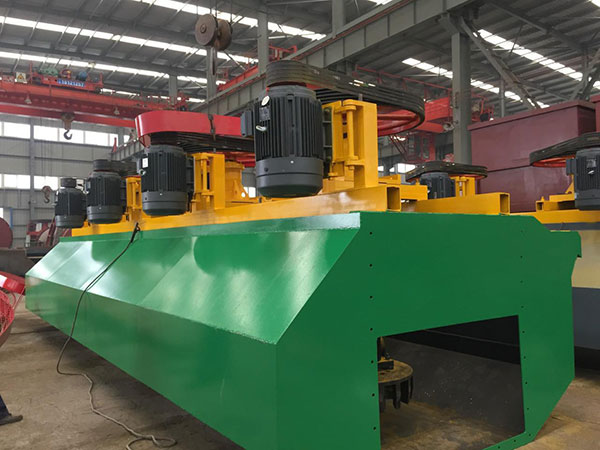 1.Equipment introduction
SF series flotation machine is suitable for the selection of colored ferrous metals, and can also be used for the selection of non-metal, such as coal fluorite and talc.
The flotation machine drives the impeller to rotate by the electric motor V-belt drive, and generates centrifugal force to form a negative pressure. On the one hand, the air is mixed with the slurry. On the other hand, the slurry is mixed with the medicine, and the foam is refined to make the mineral bond foam, floating to the pulp surface to form mineralized foam. Adjust the height of the shutter and control the liquid level so that the useful foam is scraped off by the scraper.
2.Equipment features
1) Large inspiratory capacity and low power consumption.
2) Each tank has three functions of suction, suction and flotation, and it can be used as a flotation circuit without any auxiliary equipment and horizontal configuration, which is convenient for process change.
3) The slurry circulation is reasonable, which can minimize the sedimentation of coarse sand.
4) It has automatic control device for slurry surface, which is convenient to adjust.
5) The impeller has a back-tilt upper and lower blades. The upper blade produces a slurry circulation, and the lower blade produces a slurry circulation.